Talk with Ana Akrap MaNEP Member, Professor at the University of Fribourg
Please tell us about your professional background and your main research interests ?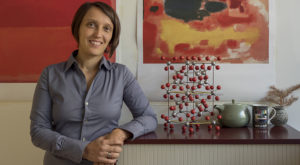 I'm an experimental condensed matter physicist. I study the interaction of light and matter, in order to understand and uncover new and exciting physics in materials both old and new. The main focus of my research are special kinds of materials in which electrons effectively become very light, less then one percent of their ordinary mass. Sometimes, these electrons can behave in a very special way, similarly to light, as if they had no inertia at all. We then say that they are massless. When we shine light on our crystals, we can glimpse small pieces of Einstein's theory of relativity. I find that wonderful and fascinating. Shining light on crystals, and looking at how this light is reflected or transmitted, allows us to learn about electronic processes on a very fine energy scale. This is most interesting to address the exotic "topological" physics. We are sensitive to many kinds of processes, and can perform our experiments in a variety of extreme conditions—such as at low temperature in a high magnetic field, or under high pressure. This allows my collaborators and I to identify the true nature of quasiparticles in several novel topological systems, such as the Dirac semimetals cadmium arsenide or zirconium pentatelluride. Recently, in very high magnetic fields, we have seen an exciting signature of Weyl fermions in tantalum arsenide.One does not become a physicist in a vacuum. My scientific path has been marked by many great people who have helped shape my profile.In my hometown Zagreb, Croatia, I finished my undergraduate studies. I then got my PhD from EPFL, where I worked with Prof. László Forró, and explored electronic transport in strongly correlated materials. I went on to Brookhaven National Lab in New York, to master optical spectroscopy, learning from Dr. Chris Homes. After my postdoc in the US, I spent time in Geneva as an independent researcher, where I worked within the group of Prof. Dirk van der Marel. Throughout my professional path I have been fortunate to learn from the best, and to be surrounded by people who are motivated by curiosity and a true passion for science. I believe it's contagious!
You have recently received a SNFS professorship and have been appointed professor at the University of Fribourg. Tell us about this new challenge.
My new job as a professor and a group leader is a challenge, but at the same time it is a great opportunity. An every day challenge is to switch between many different tasks, some of which require focused thinking, and many of which appear as distractions.I'm learning that leading a group requires a good balance in many aspects, for example letting my group members lead their own project versus giving detailed guidance. As the saying goes, one must focus on the big picture rather than trim the weeds. It is often not easy to lead other people and take a share of responsibility for someone else's career. However, I find it enjoyable and very rewarding to have my own group. It gives me space to pursue different ideas and take on a more senior, managerial role. And I'm pleased with the collegial ambience in my small but dedicated team. We learn together, and from each other.
Outside of my group, I enjoy the freedom to create and sustain scientific collaborations. In the past year, I've also had an opportunity to design and teach two courses, and I found the experience very rewarding. A thread throughout it all is that to be a good teacher, one must also be a good learner. Amongst all—collaborators, my group, students—when there is a genuine passion and curiosity, the work is enjoyable and results eventually follow.Finally, University of Fribourg is a great place, with a small but lively and talented Department of Physics. I am very happy with my new colleagues at the Department, and their generous support.
What are your main goals and guidelines for the future ?
The field of topological materials is a challenging field with a quick pace. It never ceases to pose new questions for experimentalists.
My primary goal is to see my group grow, progress and prosper, bringing important, truthful and exciting scientific results. In the future, I would also like to explore the physics of devices based on topological materials, and move towards different ways of manipulating their physical properties, such as thickness control or strain.
There is still so much to learn, and I hope we will uncover some of the exciting physics mysteries through our optical experiments in extreme conditions. I want my students and postdocs to have a successful and enjoyable learning path, to see our collaboration network blossom, make a positive impact, and to take pleasure in our work.
If you had a magic wand, what would you change?
Each moment in history has its great challenge, and ours seems to be to make life on our planet sustainable. If I had a magic wand, I'd wave away the climate change, the microplastics from the oceans, the water pollution, the extreme poverty and inequality.Without resorting to magic, I believe that as scientists, we have access to knowledge and that makes us deeply responsible for our shared future. Very specifically, as condensed matter physicists we may help develop materials for sustainable energy applications, or help solve the future water crises.
(Photo credit: Volker GRAF)