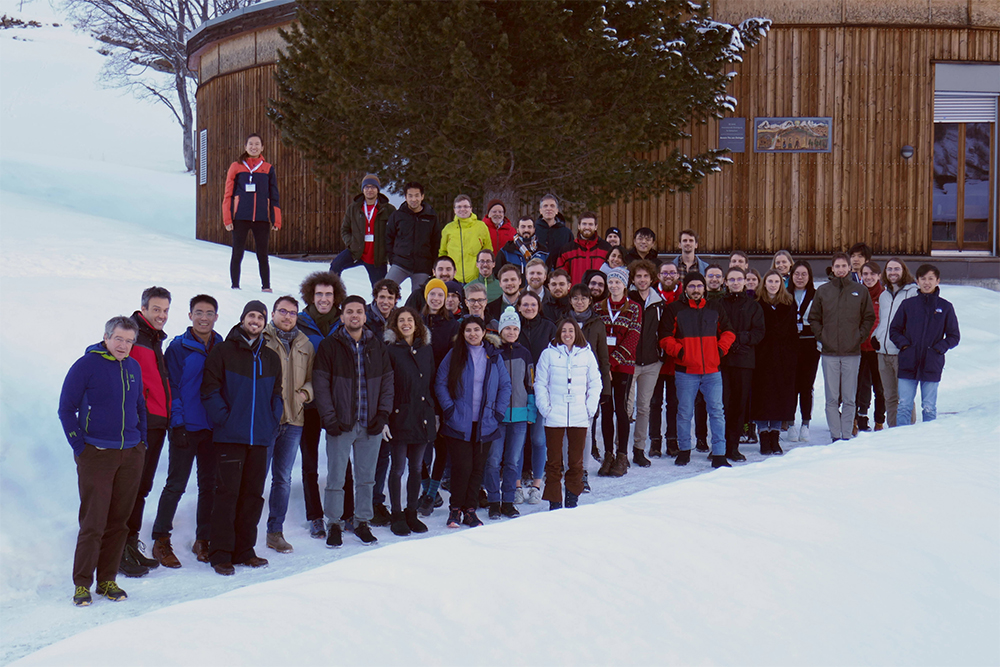 In the second week of January 2023, the 9th MaNEP winter school brought together 63 participants in Saas-Fee. Among them were 55 PhD students, representing a diverse group from various Swiss universities, while 19% of attendees were from foreign countries. Originally scheduled for January 2021, the school had to be rescheduled twice due to the impact of the COVID-19 pandemic. The participants were thrilled to finally have an "on-site" event after a prolonged period of online meetings, resulting in an atmosphere filled with genuine excitement at the registration desk of Hotel Allalin.
Markus Müller and his committee curated an engaging scientific program centered on non-equilibrium and topological aspects of two-dimensional materials. The lecturers, just as enthusiastic as the participants, were eager to teach a live audience and utilized their diverse talents to effectively convey complex experimental and theoretical concepts to the attentive listeners.
A group photo captures the collective joy of the organizers and participants, with beaming smiles shared among them (although a few individuals were absent as they couldn't resist enjoying one last run on the slopes before returning to the lectures). The organizers extend their heartfelt gratitude to all the participants for their warm and positive attitude during the school. The memories of this highly successful event will be valued by all involved.